"Regenerative Design promotes peace."
To Register, or get more information, Email us at: scott@earthenhand.com


Get 10% off on your second course!

(Please note that tuition payments, once made, are 100% non-refundable. Caveat Emptor. All rights reserved.)



Our courses are designed to be accessible to all skill levels. Students will learn cumulatively if they attend several workshops.



Ask us about individual Apprenticeships tailored to your interests.

Take a look at the Earthen Hand You Tube Channel and our Facebookpage

Below is our most up to date workshop schedule. Also, please join our mailing list via the home page.
The Bioarchitecture Primer
Summer / Fall 2022 — Portland, OR + Online. 3 Hands-on class days and 6 online class days
Join us for a comprehensive introduction to designing and building structures of natural materials. Learn about how particular forms and materials measurably promote health, longevity, and life force energy. Develop your dream home or structure in a creative group setting. Learn about the historical and modern breadth of natural building vernacular. Experience hands-on natural construction by completing multiple 1/3 scale model buildings with the group. Get 1 on 1 guidance with you design concepts.

$1200 - $1800 sliding scale

Four weekends, 3 online and 1 in person. Exact dates tbd by the class. Class size limited to 7 participants.
Earthen Floors
June 18th and 19th — Portland, OR
Prepare for fun in the mud! Learn the basics of earthen floor design and installation, how to source and process materials, as well as creating various adobe mixtures. This course will give you a familiarity with basic adobe / cob construction in general. Discuss past, present, and future of natural building design and practice. Bring your natural building design questions.

$150 - $300 sliding scale. To initiate your registration, please email us HERE.

Class size limited to 8 people. Tea and snacks provided. Ages 14+ (youth must be accompanied by a parent/gaurdian).
Earthen Plasters and Paints
July 16th and 17th — Portland, OR
Learn the sublime art of plastering with earth. Then get a crash course in how to make and apply earthen paints as well. The end result can be a super smooth, colorful, and sculptural wall straight out of your imagination! You'll learn how to source, mix, and apply earthen plasters and paints. These can be applied to wide variety of walls, including drywall, wood, concrete, adobe, strawbale, and more.

$150 - $300 sliding scale. To initiate your registration, please email us HERE.

Class size limited to 8 people. Tea and snacks provided. Ages 14+ (youth must be accompanied by a parent/gaurdian).
Earthen Paints - distance learning
Now — Your house
This course allows you to study home made Earthen Paints and applications whenever you have time from your computer via our distance learning videos. These techniques are very accessible and easy to learn with this kind of guidance. Earthen Paints have been used for thousands of years to beautify human dwellings, and can produce a wide variety of colors and textures. They are non-toxic, ecological, and inexpensive to make.

$15

Includes email support. Registration is anytime and ongoing. Email us at workshops@earthenhand.com to begin.
Photos of a few workshops
About Earthen Hand Workshops
A growing number of people are interested in natural building, earthen building, and permaculture. Our workshops seek to empower people with information and hands-on instruction for a self-reliant, ecological lifestyle.
We are dedicated to educating people about ecological building, and simple, appropriate technologies. Workshops focus on skills, information, and intuition that allow a builder to create within a natural harmony. Each day includes hands-on training, discussion, and lecture. We feel that anyone who attends our workshops will continue to learn and teach technologies of global self-empowerment.
Potential workshop hosts can contact us by email at: workshops@earthenhand.com. Our ideal workshop is cooperatively organized, delivering quality education while completing a useful structure at an affordable price for everyone.
Our local workshops provide:
Hands-on learning in earthen building techniques
Useful and beautiful structures that cooperate with their surrounding landscape
Opportunities to learn skills for free—Public workshops offered annually through Portland's Village Building Convergence event
Our international workshops:
Create a positive cross-cultural exchange
Train participants in earthen building techniques
Provide international communities with needed structures that cooperate with their surroundings
Draw funds and human energy to places where the resources are more needed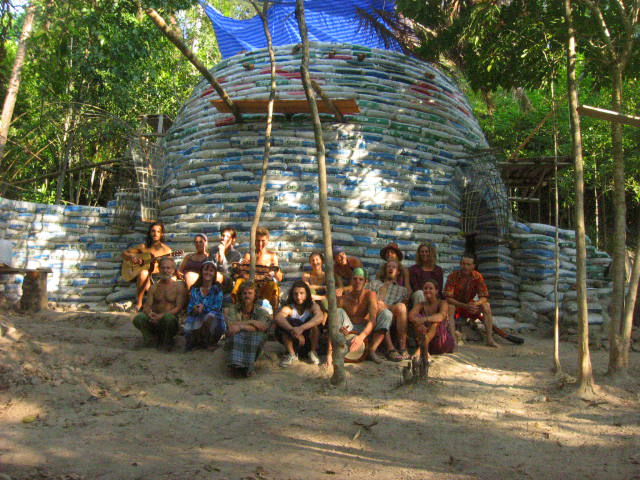 Testimonials
"The Everything Earthen class is a great hands-on overview of natural building technique and theory. It was well thought out and focused, with a good pace and balance. It never felt too rushed or too slow. Scott and Chrystalina are highly knowledgable and patient teachers who allow plenty of student input and questions. Highly recommended!"
— Dylan
"Your workshop was better than I could have hoped for. This introduction to natural building harmonized with me on every level: from the excellent and well-organized instruction, to the relaxed approach to teaching, to each facet of the hands-on learning. Hats off to your methods and approach. Thanks. I couldn't have asked for better!"
— Myriem
"The program more than exceeded my expectations! As a beginner to natural building, the workshop provided a helpful introduction to the different natural building materials and techniques which are available and how to determine which would be appropriate to any given environment or project. Your real-world experience with natural building, combined with your technical knowledge and friendly manner resulted in a workshop that was both highly informative, comprehensible and fun. I have often found that the ability to communicate complex ideas with numerous variables in a clear, concise and understandable way is the sign of true mastery of the material being taught. Your personalized attention to each workshop participant and their building designs is a reflection of your passion for the work, for the people involved and the creation of an environment which is inclusive, enriching and empowering. The handout materials, books available for review, website links and references provided at the workshop have formed the foundation of my natural building library and are invaluable. I highly recommend this workshop for those interested in the nuts and bolts of how to design, plan and actually create a natural building."
— Brian
"Great class Scott. It was fantastic to get an idea on how to really get the ball rolling on natural building. I am looking forward to working with you again!"
— Tim
"Scott was an excellent teacher, and super patient with all of us newbies. Totally worth the flight from Charlotte, and I recommend this style of learning very highly!"
— Luke
"I loved creating a structure by hand with our class. It was fun to get dirty and work hard with our amazing crew and teachers. We learned a specific method of natural building, but were also introduced to many ways of sculpting earthen materials and living in harmony with nature."
— Skylark
"Thanks for the great cob workshop! It was great to meet other people who are into cob and take the first step towards making my own cob house a reality."
— Katie