A 23 ft. earthen dome, built during our
workshop in Thailand.
16 ft. earthen dome in Dogon Country, Mali.
Click image for Gallery: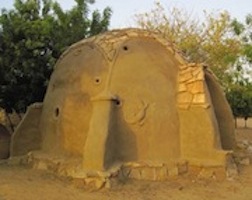 The Regenerative Home
See the
instructional video on YouTube
. Here is the
Photo Album
. See the past
crowdfunding campaign showing schematics
. Appropriate technology all the way.
Learn to build
houses that are low in embodied energy, provide their own
power, water, and food,
while turning
wastes
into resources. This is what the world needs right now. In the words of Thoreau,
"What is the point of having a nice house, if you don't have a decent planet to put it on?"
We aim to put housing back in the hands of the
people
.